Both the NLC and TUC leadership agreed to meet again with the FG team on June 19.
The Nigeria Labour Congress (NLC) and the Trade Union Congress (TUC) on Monday night suspended their planned nationwide strike over the removal of fuel subsidy by the Federal Government.
The strike was scheduled to commence on Wednesday, June 7.
The decision to call of the strike came after a crucial meeting held between representatives of the Federal Government and the Organised Labour at the Presidential Villa.
Advertisements
The meeting, chaired by Femi Gbajabiamila, the newly appointed Chief of Staff to President Bola Tinubu, proved to be instrumental in breaking the deadlock and finding common ground on the issue of fuel subsidy removal.
As a result, both the NLC and TUC have agreed to suspend their proposed strike.
Advertisements
However, both NLC and TUC agreed to meet again with the FG team on June 19.
Gbajabiamila, who addressed State House correspondents, shared the details of the discussions.
Advertisements
He read a communique that outlined the agreement reached between the NLC, TUC and the team set up by Tinubu to address the issues stemming from the subsidy removal.
The key points highlighted in the communique are as follows:
Advertisements
Establishment of a Joint Committee: The Federal Government, TUC, and NLC will form a joint committee to review proposals related to wage increases or awards. The committee will also establish a framework and timeline for implementation.
Inclusion of Low-Income Earners: The World Bank Financed Cash transfer scheme will be reviewed, with a focus on proposing the inclusion of low-income earners in the program.
Revival of CNG Conversion Program: The CNG conversion program, previously agreed upon with labour centres in 2021, will be revived. Detailed plans for implementation and timing will be developed.
Improvement of the Education Sector: The education sector will be thoroughly reviewed to address issues hindering effective delivery. The joint committee will propose solutions for implementation.
Rehabilitation of Refineries: A review will be conducted to establish a framework for completing the rehabilitation of the nation's refineries.
Road Maintenance and Rail Network Expansion: The Federal Government will provide a framework for road maintenance and the expansion of rail networks throughout the country.
Assessment of Other Demands: The joint committee will assess all other demands presented by the TUC to the Federal Government.
Based on these discussions, the following agreements were reached:
– Immediate Suspension of Strike Notice: The NLC will suspend the strike notice to allow for further consultations.
Advertisements
– Continued Engagements: The TUC and NLC will maintain ongoing discussions with the Federal Government to ensure the resolution of the above-mentioned matters.
– Implementation Framework Meeting: A meeting between the Labour Centers and the Federal Government will take place on June 19, 2023, to finalise an implementation framework.
Advertisements
Below is the resolution of the meeting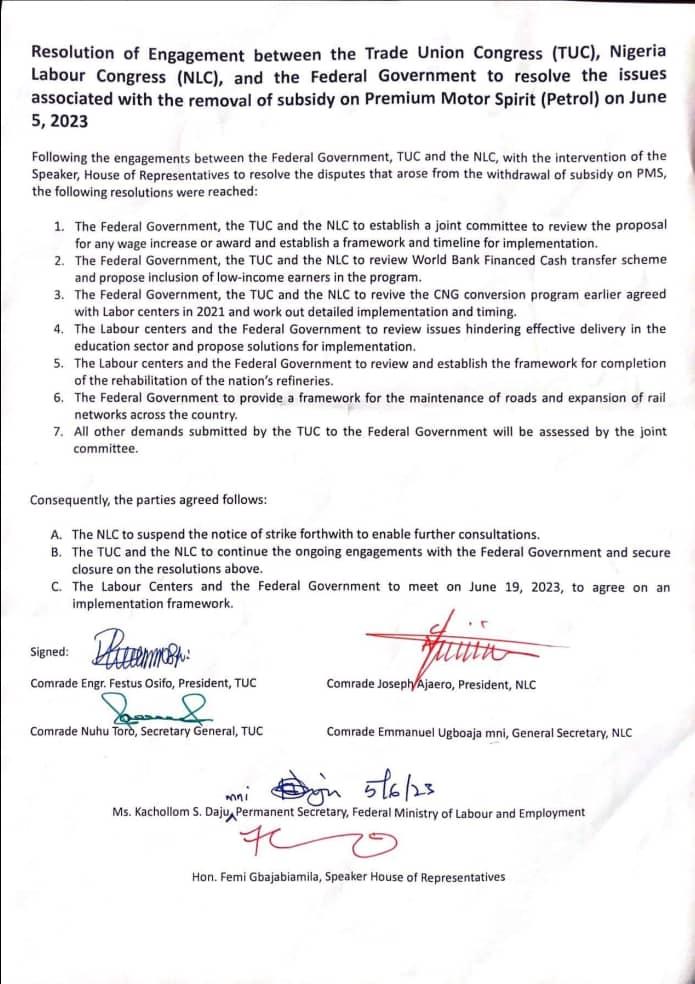 Credit: The Nicheng
Advertisements
Join our WhatsApp Group to receive news and other valuable information alerts on WhatsApp.
Advertisements