Almost everyone you know probably has a delivery hiccup story. Whether it is the dispatch rider refusing to pick up your calls or never arriving with your parcel or the dispatch company reacting very rudely when you call to complain, making that call to use logistics services is always fraught with several challenges.
But you can't avoid using these last-mile delivery services. From your Jumia Food deliveries to your CDcare purchases, they've become quite integral to our everyday lives. Before now, we mostly used these companies to receive correspondence and large parcels — like the ones we receive from uncles abroad. But the growth of eCommerce has caused an exponential growth in demand.
According to Visa's eCommerce developments across sub-Saharan Africa (SSA) report, the global eCommerce sector is projected to grow to $7 trillion by 2024. South Africa, Nigeria, and Kenya are leading the pack in Africa, and with McKinsey's predictions of a $75 billion African market by 2025, the only place now is up.
However, although projections are all good and fine, they do not exactly solve the present-day challenges we mentioned earlier. How do you cut down the wait time between dispatch and delivery? And perhaps — to round it up — how do you reduce customer and dispatch company headache stories?
In early 2021, Babajide Padonu, Kolawole Roberts, and Oluwasegun Aderibigbe met to discuss several things. Padonu had worked under Aderibigbe at a previous company and had struck up a friendship. Roberts met Padonu through Aderibigbe and the boat set sail.
It started as a joke and perhaps an avenue to vent about frustrations caused by dispatch riders, but soon the idea to form Flashbike went from jokester territory to serious business.
Advertisements
The idea was simple: create a platform that aggregates dispatch riders, enables tracking, and works as quickly as a ride-hailing business.
It took seven months to churn out a workable iteration and by November 2021, Flashbike was live on Google Play Store and the Apple App Store.
Advertisements
Like so many people, they had experienced their fair share of disappointments with delivery companies.
Speaking to his own experience, Padonu said, "I've had a lot of [sic]. I've tried to send parcels and they take a long time to come. Or the rider promises that they are going to come and they don't come or after they've promised, they don't pick your call any more after you've discussed everything. So, it was just very frustrating."
Advertisements
It was Aderibigbe who first came up with the idea of an app, and as discussions continued, issues like funding and what exactly this would solve emerged. So research began and as Padonu told Techpoint Africa on a call, they discovered a huge gap: long wait times in pickup and delivery.
According to this article on Benjamindada.com comparing wait time for four delivery startups in Lagos, while delivery usually occurs on the same day, wait time for pickup and delivery varied. For some, it took an hour, for others, it arrived the next day — based on certain extenuating circumstances.
Flashbike's model aggregates dispatch companies to provide a pick-up service with the user given the option to pick whichever is closest to them.
What this means is that, say Padonu resides in Lekki and wishes to deliver a dress to his mother in Surulere, he can open the app, set the pickup and delivery location, and he could find a dispatch rider as close as 10 km away with a wait time of between 15 – 20 minutes.
Advertisements
Initially, the idea was to create an instant service, but due to a lack of riders, they had to manage expectations.
Carving out a different route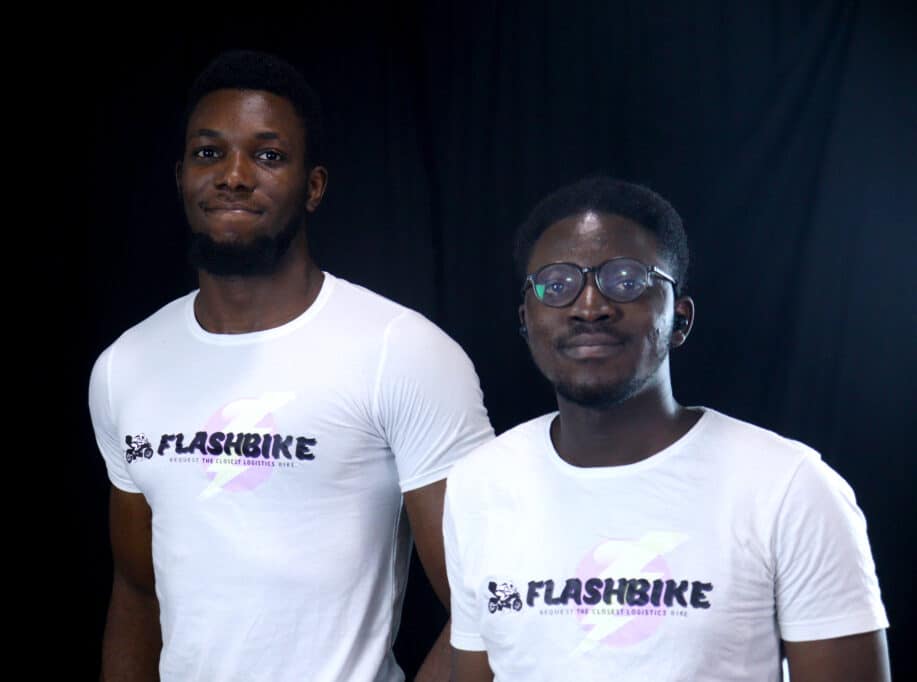 Unlike most other competitors, Flashbike has chosen a different model. Rather than onboarding riders individually, the company employs more of a B2B model which involves introducing the platform to traditional or small-time dispatch companies with little to no tech incorporated in their business.
Advertisements
So, think of this as a Fiverr but for dispatch companies.
In some ways, this serves to mitigate the risk that Flashbike incurs, reducing issues with bike repairs and maintenance, preventing possible direct regulatory hits — although this is arguable — and training riders on customer satisfaction.
Advertisements
However, they still have to contend with customer satisfaction and Padonu described a scenario where a user waited for several hours before receiving their package. Although the situation was eventually addressed, it involved quite a bit of back and forth.
To prevent situations like this, Padonu advised that users try other riders on the app. He said occurrences like this are mostly caused by shady riders.
Advertisements
Interestingly, Padonu said the app is free for now, a decision that has helped with onboarding logistics companies.
"In conversation with people where I tell them, 'This is what we have, and we'd love you to come onboard,' they'll usually ask questions like, 'How much are we paying?' But when you tell them that it is free they are ready to hop in."
Advertisements
But this doesn't always convert to actual users, he said, as sometimes they might download the app and not use it. A phenomenon that is not entirely uncommon.
Due to the model the company uses, Flashbike doesn't determine pricing. This is usually determined by the exchange between the customer and the logistics company. An option that is quite attractive for the companies.
Another attractive feature for these companies is the ability to track riders.
"If you own a company, you can see whatever your rider has done on your own app. As an owner, you would see how many requests your rider has had for the day, the ones that he fulfilled or not. That was one catch they all liked. Because sometimes, some riders can be shady and go and do their own stuff and you can't monitor them unless you have the money to put a tracker on your bike. Putting a tracker on five bikes is expensive."
Advertisements
The ordinary user also has the option of live-tracking a rider, an option that is also available to other logistics companies like Kwik Delivery.
Although there are plans to eventually include a payment method, the idea is to focus on solving the problem before implementing payment.
But as we've seen in the past with logistics startups, freebies sometimes come back to haunt them. 
TechpointAfrica
Join our WhatsApp Group to receive news and other valuable information alerts on WhatsApp.
Advertisements