Measures to deal with coronavirus outbreaks are in place across Europe.
Many involve the reintroduction of restrictions which had been eased after initial lockdowns.
France: Second national lockdown
France entered a new national lockdown on Friday, 30 October.
People are allowed to leave their home only to go to work (if they cannot work from home), to buy essential goods, seek medical help or to exercise for one hour a day.
Everyone found outside has to carry a written statement justifying their journey, as happened in the first lockdown in March.
All non-essential shops, restaurants and bars are shut, but schools and creches remain open.
Social gatherings are banned.
The rules will be in place until at least 1 December.
In addition, in Paris and surrounding areas a curfew from 21:00 may be reintroduced. It was initially brought in from 17 October, but dropped when the national lockdown was announced.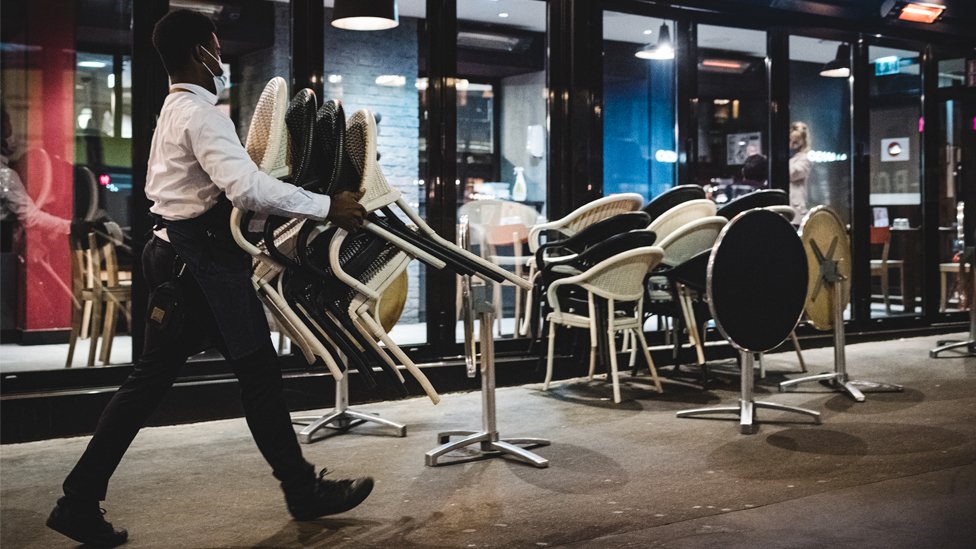 Germany: Partial lockdown in November
From 2 November, new restrictions across the country include closures of cinemas, theatres, gyms, pools and saunas, as well as restaurants and bars, except for takeaway.
Social contacts are limited to two households with a maximum of 10 people. Large events are cancelled and no crowds are allowed at sports fixtures.
Overnight stays in hotels for leisure purposes are banned and all non-essential travel strongly discouraged.
However, schools and creches are open and visits to nursing homes are allowed.
Shops and hairdressers are able to stay open, with strict hygiene rules and limits on the number of customers. Church services and protests are also permitted.
The measures will stay in place until 30 November.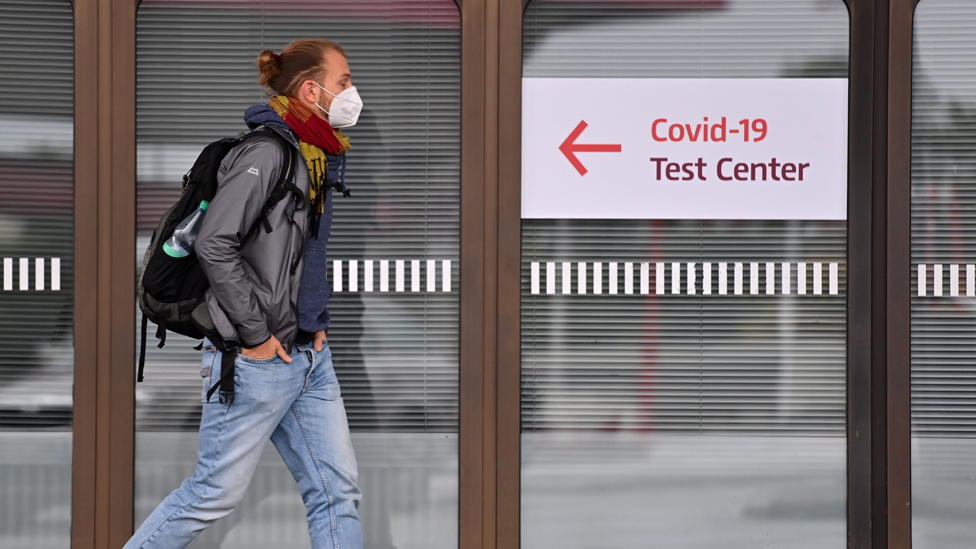 Italy: Sweeping new measures
A new three-tier framework and further nationwide restrictions will come into force on 4 November.
Across Italy, museums, which until now were allowed to stay open, will have to close. Schools will remain open but older students will switch to remote learning. Capacity limit on public transport will be reduced from 80% to 50%.
In addition to these nationwide measures, the country will be divided into red, orange and green zones. The red zones – the areas with the highest level of infections – will have to close all bars, restaurants and most shops, including hairdressers and beauticians. Factories and essential services will remain open, including pharmacies and supermarkets as was the case during lockdown in March.
In orange zones, restaurants and bars will close but hairdressers and beauty salons can remain open.
Gyms, swimming pools, theatres and cinemas already had to close in late October and restaurants and bars can stay open until 18:00 only. Gatherings for weddings, baptisms and funerals were banned and people were strongly advised not to leave their immediate areas unless for work, study or health reasons.
Masks already have to be worn everywhere across Italy, indoors and outdoors, except in private homes.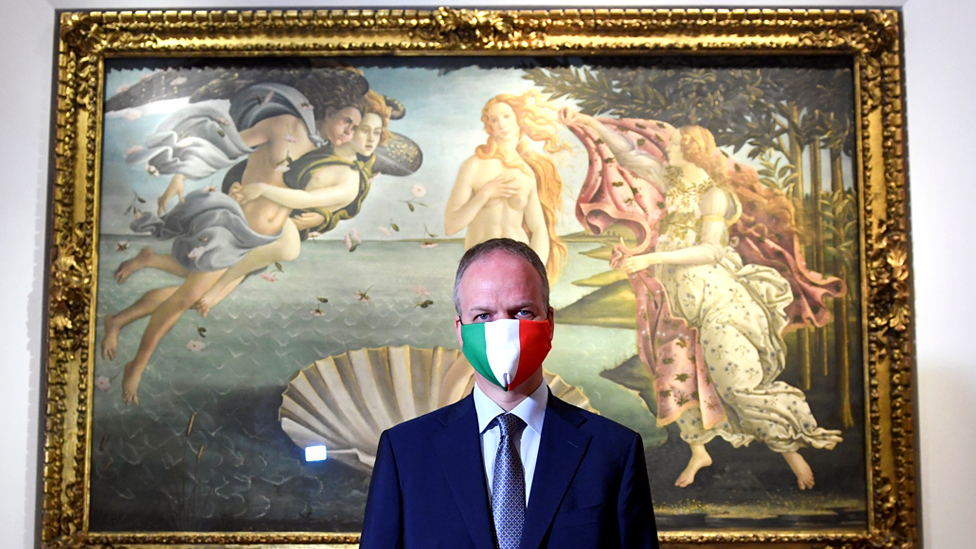 Spain: New state of emergency
On Sunday, 25 October, Spain began its nationwide curfew, after the government declared a new state of emergency.
People in all regions, with the exception of Canary Islands, will have to stay at home between 23:00 and 06:00.
The only permitted journeys are going to work, buying medicine or caring for elderly people or children.
Public and private gatherings are limited to six people.
The state of emergency was initially put in force for 15 days but was later extended by parliament until early May 2021.
Spain's regional leaders can modify the start and end times of the curfew in their territory and can also close regional borders to travel.
The nationwide measures follow a number of regional measures introduced earlier in October.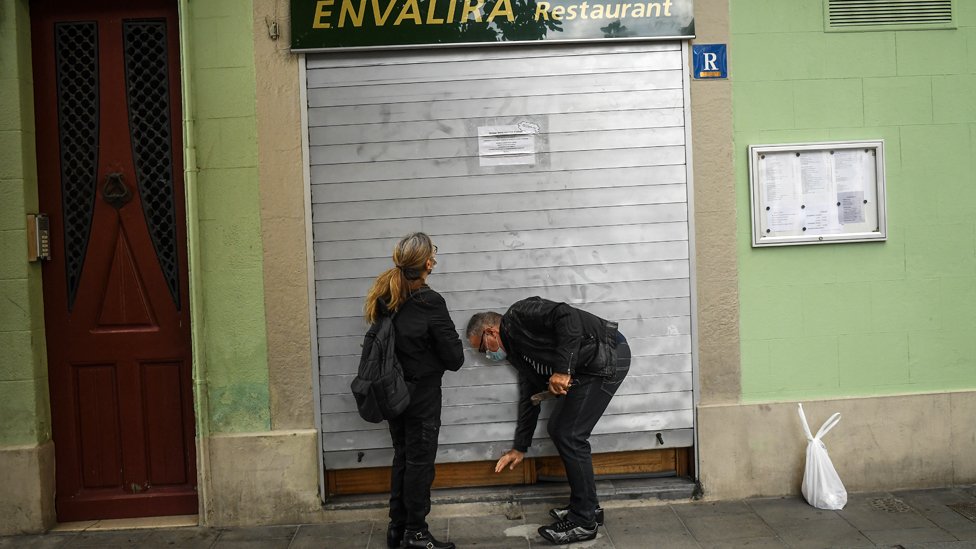 Face masks have to be worn by anyone over the age of six on all forms of public transport and in indoor public spaces across the country.
Most regions in Spain have made masks obligatory outdoors as well.
Belgium: Curfew and closures of shops and restaurants
From 2 November to mid-December, all non-essential shops and businesses offering personal services like hairdressing will be closed. Other shops have to close by 22:00 and alcohol sales are prohibited after 20:00.
All bars, cafés and restaurants are also closed but they can offer takeaway services until 22:00. Restaurants and bars in hotels can only provide service in rooms. Masks have to be worn everywhere.
Autumn school holidays have been extended until mid-November.
Working from home is mandatory for everyone who can do so.
In Wallonia and Brussels, there is a nightly curfew from 22:00 to 06:00. The exceptions are for urgent medical care and those who have to commute to work.
In Flanders, the curfew is set from midnight to 05:00.
Groups meeting outside are limited to four people.
Gyms, pools and other cultural and leisure facilities are closed.
Christmas markets, winter villages, second-hand markets and public events such as festivals are not allowed.
Football fans, as well as other sports spectators, are no longer allowed to attend fixtures.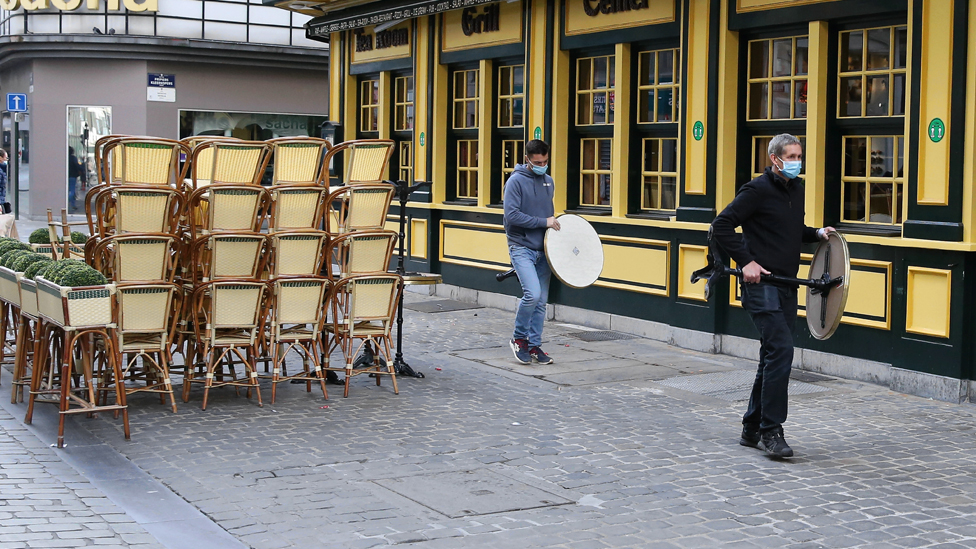 Portugal: Local lockdown and other national restrictions
New lockdown restrictions will take effect on 4 November in 121 municipalities with a high infection rate. The areas are home to around 70% of the country's population. People there will only be allowed to leave their homes for work, school or other essential tasks.
The measures will be reassessed every two weeks.
Masks are compulsory in outdoor spaces, for everyone aged over nine.
Movement between Portugal's municipalities had already been prohibited between Friday and 3 November – the All Saints holiday.
Earlier measures include the closure of commercial establishments by 23:00 and a ban on selling alcohol in shops, service and petrol stations after 20:00.
Drinking alcohol is banned in public places unless it is part of a meal service.
Gatherings are limited to a maximum of five people. University parties are banned but up to 50 people are allowed at weddings and baptisms.
Netherlands: A partial four-week lockdown
All bars, restaurants and coffee shops can only serve takeaways.
The sale of alcohol in shops and restaurants is banned after 20:00, and you are not allowed to drink alcohol in public after that time.
All shops, apart from supermarkets, must close by 20:00 across the country.
People are advised to stay at home and work from home as much as possible. A maximum of three people can visit your home per day, and only four can meet outside, but both rules exclude children under 13.
Events like open-air concerts and funfairs are banned.
The measures were introduced on 13 October and will stay in place for at least four weeks.
Previous measures, such as wearing masks on public transport, in shops and other indoor places, will also continue to apply.
Schools, gyms, swimming pools and saunas are open, and children under the age of 18 can continue playing amateur sports.
Museums, theatres, cinemas, zoos and amusement parks could be ordered to close in a further announcement on 3 November.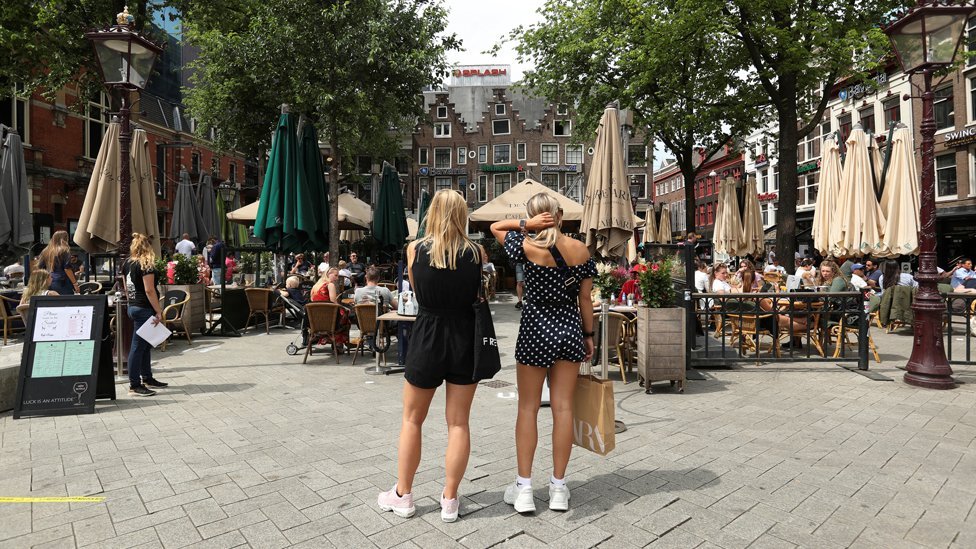 Czech Republic: A new national lockdown
The Czech Republic was the first country in Europe to announce a new national lockdown similar to the one imposed in the spring.
Services, schools and shops, with exception of those selling essential supplies, were closed until 3 November. The restrictions have now been extended until 20 November.
People are not able to leave their home unless they are going to work, making essential family visits, exercising, buying food or medicine or seeking medical help.
Denmark: New measures to restrict social activity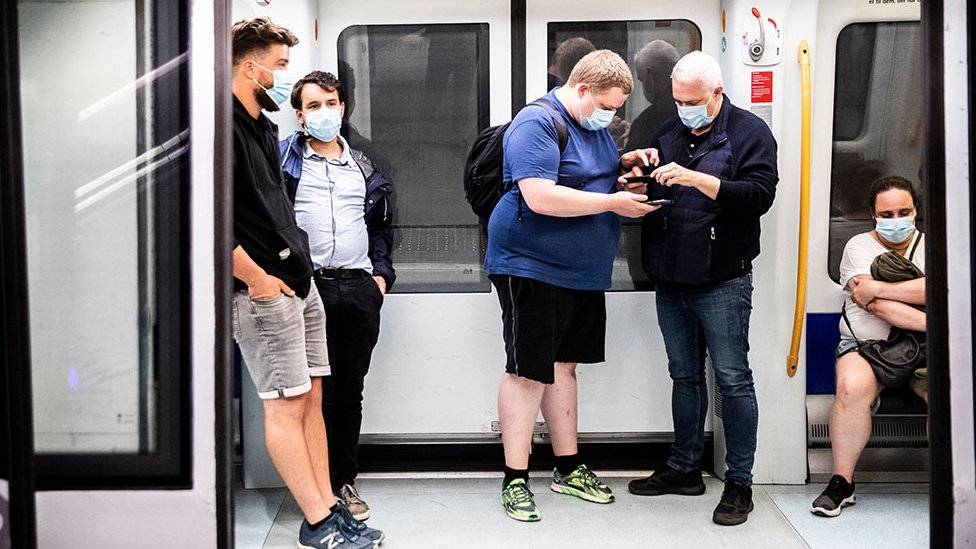 Denmark was one of the first countries in Europe to reopen schools in April.
However, in late August the number of cases began rising sharply.
The government responded by introducing a series of new measures in September and October.
Until 2 January, alcohol sales after 22:00 are banned.
The number of people allowed to attend gatherings has been cut from 50 to 10.
And masks are now compulsory in all indoor public places.
All other restrictions already in place have been extended until 2 January.
They include the closure of bars, restaurants and nightclubs in Copenhagen and surrounding areas at 22:00.
Republic of Ireland: New partial national lockdown
Ireland reverted to the highest level of coronavirus restrictions on 22 October.
Restrictions are expected to last for six weeks but will be reviewed after four.
People are being asked to stay at home. Those who can work from home must do so.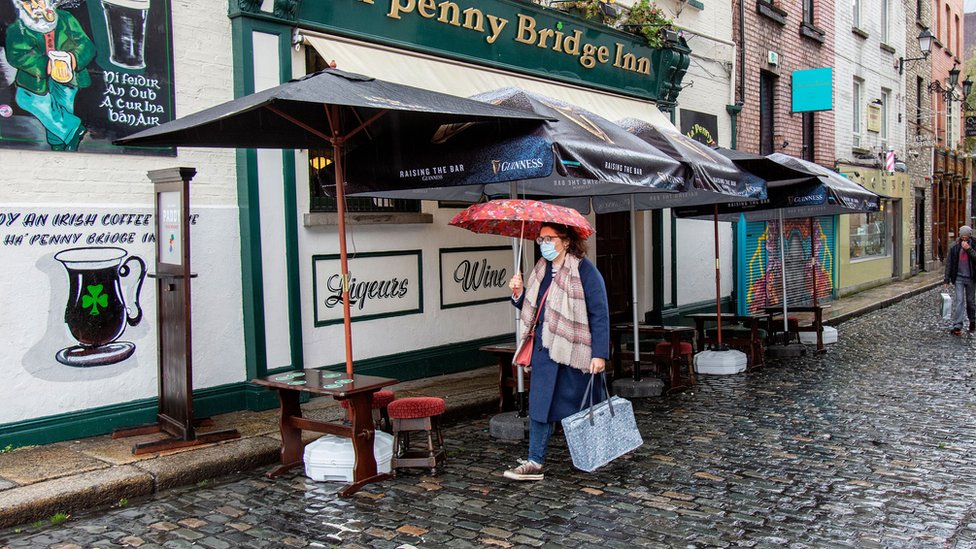 No social or family gatherings are allowed in homes or gardens but people can meet outdoors with one other household, for example to exercise, but within 5km (about three miles) from home.
Many non-essential shops and hairdressers had to close and bars and restaurants are only be able to provide a takeaway service.
Weddings and funerals are limited to 25 and 10 people respectively.
However, schools and creches will remain open and elite sport and construction will continue.
Greece: Curfew and restaurant closures in Athens and other areas
Athens and the surrounding areas currently have a 00:30-05:00 curfew. Other measures include closure of restaurants cafes, clubs, cinemas, museums and gyms and wearing of masks both outdoors and in public indoor areas.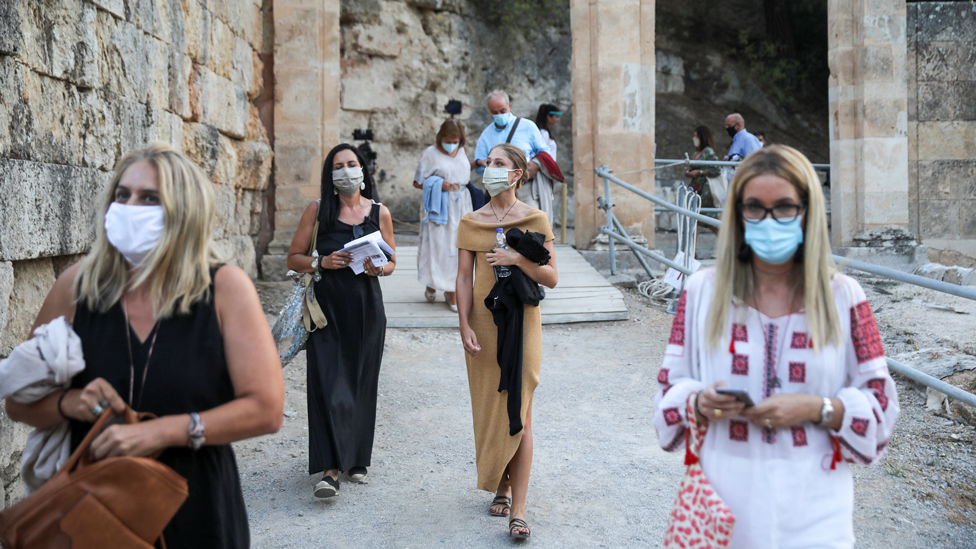 Greece's second largest city, Thessaloniki, and the northern province of Serres are now also under local restrictions, from 3 November, for two weeks.
A curfew from 21:00 until 05:00 is in place there and people can only leave their homes for specific reasons, such as to work, exercise or assist someone in need.
All non-essential domestic and international flights to Thessaloniki's airport are prohibited.
Sweden: Lockdown measures not imposed
There was no lockdown in Sweden but, in line with government advice, most people respected voluntary social distancing and started working from home where possible.
The number of new infections is now rising again but not as sharply as in some other parts of Europe.
Stricter local guidelines have been introduced in eight out of 21 Swedish regions, including the capital Stockholm and the two other largest cities, Gothenburg and Malmo.
They include advice to avoid public transport and in-person contact with other households as well as non-essential shops, shopping malls, gyms and other sports training venues, museums and concerts.
The measures are voluntary and they currently apply until 17 or 19 November, depending on the region, but they could be extended.
Masks are still not recommended but there is a limit on the number of people sitting together in cafes and restaurants – a maximum of eight per table.
On 1 November, a nationwide legal ban on public gatherings of more than 50 people was lifted. Socially-distanced events for up to 300 people are now allowed but few are expected to go ahead in the regions with new guidelines.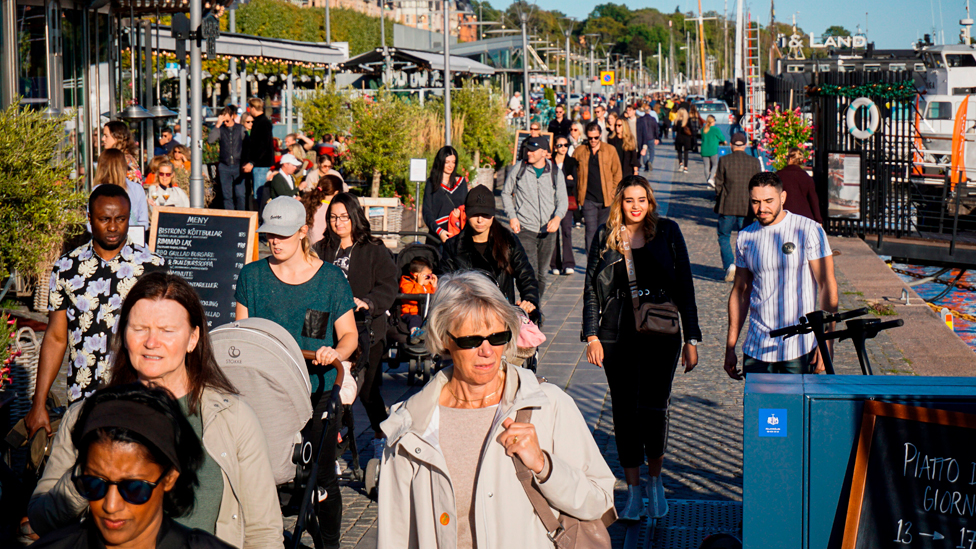 BBC
You want to share a story with us? You want to advertise? You need publicity for a product, service, or event? Contact us on WhatsApp – +234 803 3018 881